I've only missed one thing since the pandemic started...
Dancing.
Early on during quarantine I was clear that everything would change and quickly adjusted my expectations -- no eating out, no being out period, no travel. But not being able to dance with other people continues to break my heart. It is literally one of the worst activities you can do during a respiratory pandemic — you are cramped close in crowds, breathing hard and spraying particles everywhere. There is only so much mirror dancing that you can do before it gets old.
When I think about all the ways dance was baked into my life in the before times, it is kind of surprising, but then again not really. I spent the last three years as a carnival chaser -- after my first trip to Trinidad I was hooked. The feeling of dancing in the street with the sun on your skin and a drink alongside 100,000 strangers is just delicious. And the wild abandon of dancing in mud, oil, and paint in the dark of night during J'ouvert? *Chef's kiss* After that it was Notting Hill Carnival, Bermuda Carnival and then back to Trinidad (with some AfroSocaLove parties in between).
Before becoming a Carnival junkie, I was a regular at Havana Village in DC, a Cuban salsa spot where my favorite dance partner was an older man from the DR. He was great because his style was no-frills and smooth. It was cramped and narrow, and was always super sweaty and packed (just how I like it). I remember one night the waitress came from behind the bar and danced the most beautiful salsa I had ever seen. She was tall, thick, and brown, and the way she glided was just dreamy. She is the mental model of how carefree I want to be when I dance.
And even before salsa and Carnival I loved the hotboxes of gym jams and 12-2 at Hampton. It doesn't matter: it could be in a seat, on Bourbon street, while eating treats, I will find a way to beat my feet. And while we're in quarantine I'll have to live vicariously through viral dance TikToks and Beyoncé's new film, "Black is King". While it's definitely giving strong Coming to America-esque American-conceptions-of-African-identity vibes, BIK is undoubtedly beautiful. My brain stops overanalyzing enough to enjoy it when I think of Beyoncé as a curator of an audiovisual exhibition instead of strictly as a performer, and also when I consider how good the production is. If Beyoncé ain't gonna do nothing else, she's gonna hit you with 1. Textures 2. Vocals 3. Beautiful gowns and 4. Some good ass dancing.
Throughout the movie she acts as a Greek chorus for the larger "Lion King" storyline, but she also platforms the work of so many Black American and African designers, rappers, and artists. Seriously check the credits — Blitz the Ambassador, Tiwa Savage, Yemi Alade, Wizkid. It's a who's who of the hottest stars across the continent. You can really see Blitz's influence throughout (check out his video for his song Shine + and his movie the Burial of Kojo on Netflix). I see this as a continuation of the Baduification of Beyoncé (which I wrote about four years ago) -- she is fearlessly exploring Black cultures that she didn't have the freedom to earlier in her career, something Erykah Badu has done really well.
Honestly the best parts of the movie were all the moments where I wanted to shake my ass -- "My Power" comes to mind. "Keys to the Kingdom" was also a fave before BIK dropped, as it falls into a nice groovy soca rhythm that I love. Can't wait to pelt waist to that once quarantine is lifted. I appreciate Black is King because it's an event, and it reminds me to dance.
Tell me -- what are you missing the most right now? And what do you think of Black is King?? Shoot me a message.
Watchlist/Required Reading
This version of Chronixx's "Cool As The Breeze" video is hard as fuck. One shot and super compelling even though it's just him, a mic and a bando. It's also a song about going out dancing lolsob 😭
Lil Murda from P-Valley is so thoughtful. Speaking of P-Valley, I'm loving Elle's recaps. Catch up here.

The radical dads with leafblowers at BLM protests.

If you want to watch a much deeper, spookier Senegalese version of the Little Mermaid story, watch "The Atlantics" on Netflix.

Chloe x Halle's Baby Girl video broke me at the end. So good.
Recipe: Pupusas!
I made vegetarian pupusas by slightly modifying this recipe from Buzzfeed Tasty. Usually I avoid Tasty's stuff like the plague because it's too flavorless, but this one was legit. I had a hankering for pupusas and this was simple enough. I didn't realize until I made them that pupusas are just the stuffed hot water cornbread. I love it.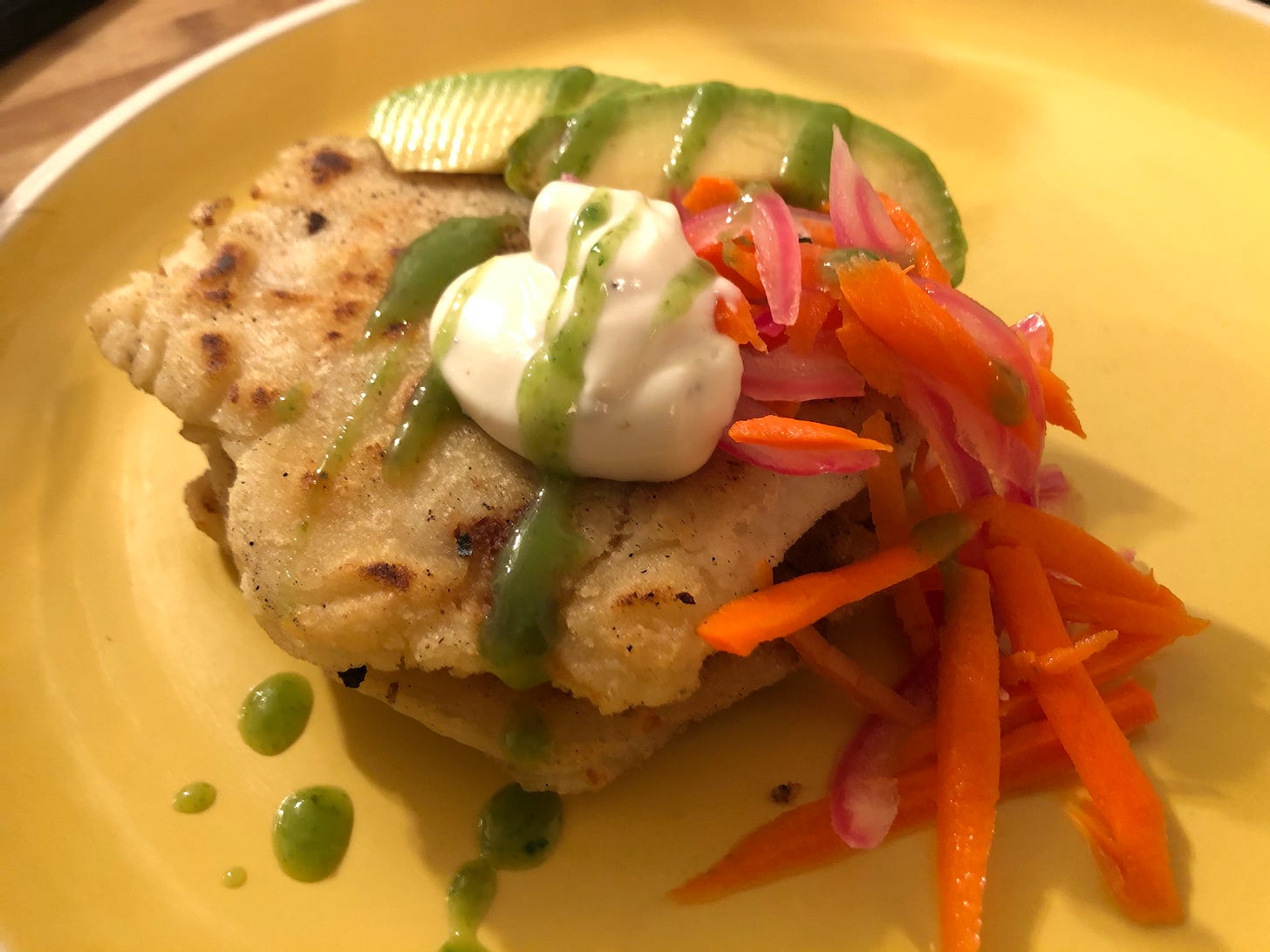 Terryn